A PHILIPPINE TRAVEL AGENCY YOU CAN COUNT ON
Green Earth Tours and Travel, Inc. is a corporation duly registered with the Securities and Exchange Commission and accredited by the Philippine Department of Tourism. You can be sure to count on Green Earth to deliver and deliver the best service there is.
Since the travel agency's inception, customers from Cebu, Manila, and provinces all over the Philippines as well as countries around the world have come to patronize the business and entrust their tours and accommodations with the agency's competent staff. The team strives to keep and grow that trust, and invites all prospective and discerning travelers alike to engage its friendly and reliable brand of service.
Services: Cebu Travel and Tours, Cebu Hotels and Cebu Resorts; Bohol Travel and Tours, Bohol Hotels and Bohol Resorts; Palawan Travel and Tours and Palawan Hotels and Resorts; Boracay Resorts and Boracay Accommodations; Davao Travel and Tours and Davao Hotels and Davao Resorts, Negros Oriental Tours and Packages; Hong Kong Tours, Singapore Tours, Bangkok Tours and many more!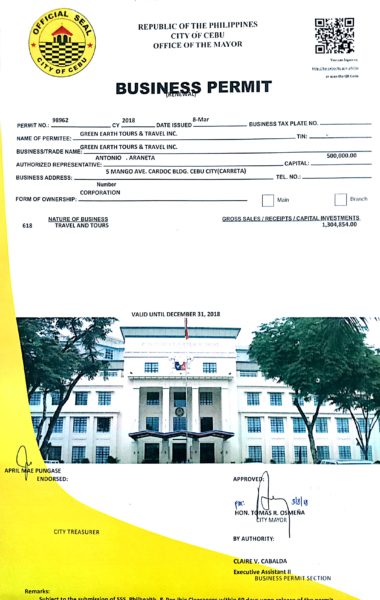 Green Earth Tours and Travel has been issued its 2018 business permits. Also, it's accreditation with the Philippine Department of Tourism has been renewed for 2018 to 2020. Travelers and valued guests can rest-easy knowing they are dealing with a legitimate tour operator. This means that wherever you are based, your transactions with the travel agency are safe and sound because the government has our records, and you have recourse in the event that there are any concerns.
As further update, Green Earth Tours and Travel has expanded its offers to Asian countries like Japan, Korea and India. The travel agency also offers cruises via Royal Caribbean and Star cruises; as well as group departures to the Holy Land (covering Jordan, Israel and Egypt).
Please feel free to contact Green Earth Tours and Travel for your travel requirements.