Booking your Cebu trip and tours, as well as those to other destinations, has gotten easier every year. In the age of internet and e-commerce, there are a lot of service providers — travel agents and tour operators alike, that have been given the voice to reach out to more clients than they would have during the brick-and-mortar days.
While this development is more than welcome, it ushers in an avenue for dubious individuals and entities to scam people off of their hard-earned money. Guests and business partners, we at Green Earth Tours and Travel have taken pains to be registered with the Philippine Securities and Exchange Commission, accredited by the Department of Tourism and the Department of Foreign Affairs, and affiliate with associations like the National Association of Travel Agencies (NAITAS) and Tours7. Green Earth is a Cebu-based travel and tour company that is very much present online, as it is present offline—because we have a brick-and-mortar office for those who prefer face-to-face transactions.
Below are our business permits for the year 2017. Do ensure that when you do decide to shop around for other tour companies, you ask for their permits as well. Transparency is key, in this age when just about anything goes in the internet.
BOOK YOUR CEBU TRIP AND TOURS WITH CONFIDENCE
Below are Green Earth Tours and Travel's permits for your reference.
CERTIFICATE FROM THE SECURITIES AND EXCHANGE COMMISSION
Travel and tour companies in the Philippines cannot just set up business at whim. There are rules to follow, if one wants to be legit in doing things. Just because a person knows how to create a Facebook page and sell tours there does not mean the law recognizes him.
Green Earth Tours and Travel, Inc. is a Philippine Corporation, and because of this, we have our certificate from the Securities and Exchange Commission to show our guests. For travel and tour companies which are not corporations, they may give you their certificate from the Department of Trade and Industry (DTI). Partnerships will still have SEC certificates.
Registration with the SEC is valid for 50 years from the time of registration. Green Earth Tours and Travel has bee incorporated in 2007.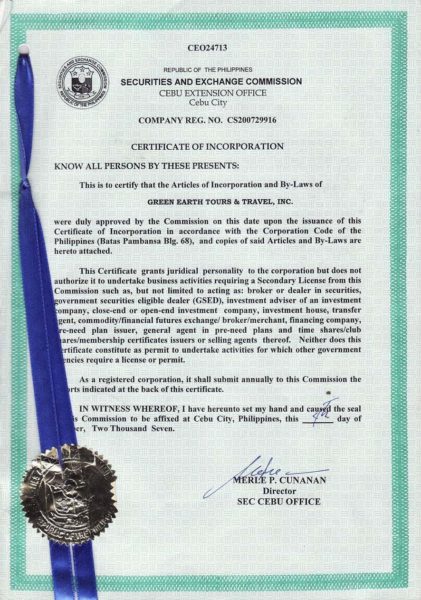 ACCREDITATION BY THE DEPARTMENT OF TOURISM
Travel agencies and tour operators in the Philppines do not necessarily have DOT-accreditation, and that's fine. The government allows businesses to offer tour services without such accreditation. However, travel agencies and tour operators who are serious about their respective businesses and want to gain trust, and more legitimacy seek the accreditation of the Department of Tourism.
What does it mean to be DOT-accredited? A lot. Guests will be more confident in dealing with the travel agency and trip and tour operator because this means the DOT has inspected its documents, has inspected its office, and has ensured that a certain percentage of the company's staff have tourism operations background, necessary to protect guests who which to travel around the Philippines. International companies who also seek travel services in the country or who want to collaborate with tour companies would rest easy knowing they are dealing with tour operators who have gone through screening by the government.
The DOT accreditation of Green Earth Tours and Travel has been renewed last 2016 and the certificate is valid for the years 2016, 2017 and 2018 (June).
BUSINESS PERMIT FOR CEBU TRIP AND TOUR OPERATOR, CEBU TRAVEL AGENCY
It is not enough that the your travel agency be recognized by national government bodies like the Securities and exchange commission as well as the Department of Tourism. The business must also be registered in the city where it is based.
Green Earth Tours and Travel, Inc. is a Cebu-based trip and tour operator and a Cebu-based travel operator. It operators tours within Region 7 like Cebu, Bohol, Dumaguete and Siquijor. That said, it is also a travel agency selling tour packages for destinations where it does not operate like Palawan (Puerto Prinsesa, El Nido, Coron), Iloilo and Bacolod, Davao, Surigao, Siargao, Cagayan de Oro and Camiguin. At the same time, it offers packages to countries all over Asia, Europe, Australia and the Americas.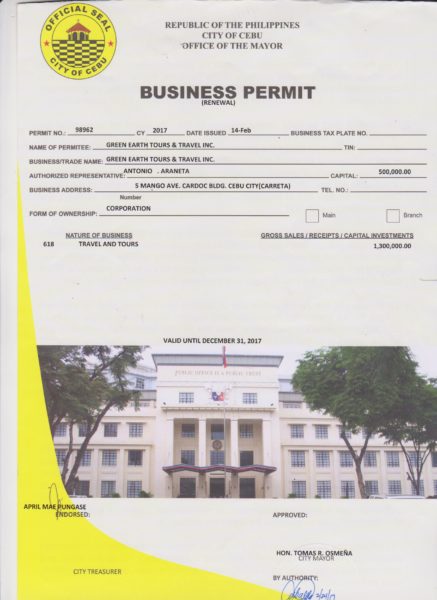 Business permits are renewed yearly. The above photo is the travel agency's 2017 permit. Apart from that, the company had to secure a certificate of submission of an environmental sustainability plan as well as a sanitary permit. All these permits are secured yearly. It's cumbersome, but Green Earth Tours and Travel goes through the processes at any rate not only because it is necessary to operate a trip and tour business; but so that most of all, guests and business partners alike can travel with ease and confidence.