A trip to the Southern towns of Cebu is all about adventure—for 2 days and 1 night, Green Earth Tours and Travel can weave an interesting mix swimming, trekking and sightseeing activities to make it worth your while.  Our travel agency can arrange for you to visit Osmena Peak, Oslob (for the whaleshark interaction activity), Sumilon sandbar, Moalboal and Kawasan Falls.
It is possible to visit the key spots in the south of Cebu within 2 days and 1 night. Departure from the city should be early in the morning, at around 4AM at the latest, if possible. We drive from city to Dalaguete where we take you to the nearest possible point to Osmena Peak. The trail to the peak is visible, and should you need a guide, the fees and tips will be at your own account. Osmena Peak is one of the highest in Cebu. Be sure to take in the panoramic view of the iconic jagged little hills. It is ideal to visit Osmena Peak either early in the morning, to catch the sunrise. Alternatively, some people prefer to visit Osmena Peak towards the sunset. Some take it a bit further, and set camp at Osmena Peak before heading back down to Dalaguete, or traversing farther to Kawasan Falls.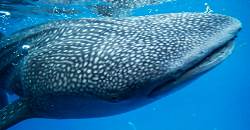 For Green Earth Tours and Travel's Southern Roundup Tour, we head to Oslob after sightseeing and picture-taking at Osmena Peak. We are conscious of the time and we cannot take too much time at Osmena Peak because travel to Oslob takes another hour or so.
The town of Oslob in Cebu is famous for its whalesharks. The interaction with the whalesharks has spawned an industry altogether, as an Oslob tour will necessitate tour guides, environmentalists, boatmen and the like.  In order for tourism to be sustainable, the LGU of Oslob regulates the length of time or duration of the whaleshark interaction for 30 minutes. The tour to south Cebu arranged by Green Earth Tours and Travel already includes the boat use, life vest, snorkel and mask and the local guide onboard the boat. Guests at Oslob who are doing the whaleshark tour should take care to observe the do's and don'ts in the area. One is not allowed to wear sunscreen during the interaction, and one will be heavily fined if he or she touches the whalesharks.
After the 30-minute whaleshark interaction in Oslob, we take guests to Sumilon Sandbar. A separate boat will ferry you from Oslob to Sumilon, where you can continuet to enjoy the azure waters. Please note that Sumilon sanbar is different from Sumilon Bluewater Resort. The sandbar is just a small part of Sumilon, while bulk is occupied by Sumilon Bluewater. For the purpose of covering as much ground as possible, we will only take you to the sandbar. Should there be those who wish to enjoy the resort's facility, please email us so we can quote you a more relaxed itinerary in South Cebu.
Lunch may be served at Sumilon sandbar, or at one of the restaurants along the main cost of Oslob instead.
After swimming with the whalesharks in Oslob, Green Earth Tours and Travel will take you to Moalboal, our destination for the day where you will sleep in one of the simple/budget accommodations along Basdako in Moalboal. Basdak is a good jump-off point for the next day's  Moalboal Island Hopping Activiy. Guests are free to be on their own at night in Moalboal. There are restaurants in the area, or one can ask for the place where they will be staying to cook meals for them for a fee. The public beach of Basdako in Moalboal is a good spot to relax and make new friends—certainly a great way to enjoy Day 1 of the South Cebu Roundup Tour.
On the next day, we start early, take quick breakfast and proceed to Moalboal Island Hopping. There are three highlights for the Moalboal Island Hopping Tour: Pescador Island,  Sardine Run and Turtle Bay. However, turtle sightings during the Moalboal Island Hopping Tour are not guaranteed. As with turtles, there is a slight possibility of seeing dolphins along the way. Again, sightings are not guaranteed. However, guests should prepare to be awed by the famous Moalboal Sardine Run. It is a worthwhile spectacle to see.  Guests will be provided with mask, snorkel and life vest so those who do not know how to swim need not fret.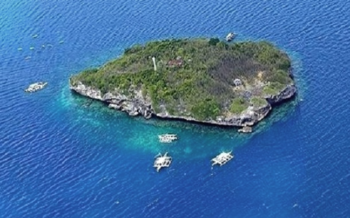 The Moalboal Island Hopping is relatively short. We can finish tour within 3 hours. After that, we head to the last highlight of the day—Kawasan Falls! Lunch will be served at Kawasan Falls, and table and raft rental are also included. Canyoneering is an optional activity, and this would highly depend on time constraints. After swimming in the cool waters of Kawasan, we freshen up and bid goodbye to the south of Cebu as we end the Southern Cebu Roundup Tour and head back to the city.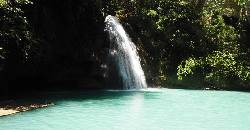 It is possible to reverse the itinerary in south Cebu. This alternative itinerary is getting more popular, especially for those who do not want to wake up too early on Day 1. We can do Moalboal Island Hopping first, then proceed to Kawasan. Canyoneering is still an optional activity, and then we end the day with a  trip to Oslob, where we will retire for the night. In the morning, we need not rush too much as we are already in Oslob anyway. We can do our the 30-minute whaleshark interaction, and then head to Sumilon sandbar where we take our lunch. Alternatively, lunch may be served in the Oslob mainland.  We end the day with a  visit to Osmena Peak (if time permits). Else, we can skip Osmena Peak and pass by Simala Shrine instead, to appreciate it's unique architecture and to appreciate the importance of the church to the religiosity of a lot of Cebuanos and Filipinos for that matter. We give thanks for a safe trip and head to Cebu either to catch a late flight out, or to comfortably sleep in any of the city's hotels in order to recharge for another day.
For arrangements to the south of Cebu, please get in touch with Green Earth Tours and Travel. We can capably handle arrangements for you and assist you with your needs.  You may email us at gett.inc@gmail.com or you may reach us at any of our numbers listed in our Contact Us page. See you soon in southern Cebu. We'd love to have you join us for our Southern Cebu Roundup tour to see some of the best spots of the province (like Osmena Peak, Kawasan Falls, Simala and the like) and experience some of the most unique activities (Whaleshark Interaction, sardine run in Moalboal and the like)