Green Earth Tours and Travel has yet again been given an accreditation by the Department of Tourism. The DOT accreditation of the Cebu-based travel agency and tour operator has been released by DOT region 7 last July 8, 2016. The accreditation is valid until June 30, 2018. The longer validity of the accreditation is good news, because prior 2016, the validity of the accreditation certificate lasted for one year only.
What does it mean for a travel agency and tour operator to be accredited by the DOT? It means the establishment has passed a screening process sanctioned by the government. The business is legit, and the owners and directors have put in substantial capital and investments to make it run and operate. In Cebu, when a travel agency gets a DOT accreditation, it also means that it has also been given a certificate by the Cebu City Tourism Council.
What does it mean for individuals and corporate entities availing of services from a DOT-accredited agency? It means more accountability, as business are monitored and held to answer for any concerns raised by consumers and guests. With too many fly-by night operators setting shop in cyber space or operating from home, people can get easily duped by the scheming and the scamming minds. Hard earned money is spent on vacations and of course, we don't want that to happen. So best to check with the travel agencies you deal with and respectfully ask that you be shown their latest accreditation and business permits.
The following requirements were complied with by Green Earth Tours and Travel in order to be accredited by the DOT:
Valid Mayor's Permit
Certificate from the Cebu City Tourism Council (required if the travel agency is based in Cebu City)
Amendment of Articles of Incorporation and By Laws
Tour packages with corresponding itineraries
Audited financial statements and income tax return (ITR) for the preceding year reflecting a minimum working capital requirement of Php500,000
Green Earth Tours and Travel also had to be inspected  by DOT representatives, to ensure that the office is clean, displays the necessary signages and observes safety precautions (ie, having a fire extinguisher onsite)
Below is the updated DOT accreditation certificate:
Below is the certificate issued by the Cebu City Tourism Council: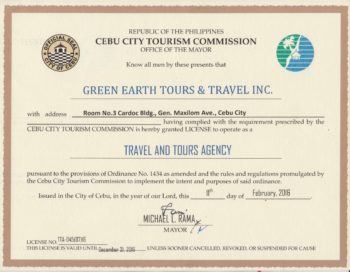 Be aware of these things to look out for, and make sure your vacation plans do not get ruined because some travel agency runs with your money. In fact, the DOT also recently came out with the advisory for the traveling public. As much as possible, one is encouraged to go through accredited travel agencies for one's own protection.
Below is the advisory issued by DOT last July 25, 2016:
Go for the reliable. Green Earth Tours and Travel is a Cebu-based travel agency and tour operator. We are both brick-and-mortar and online, and you can be sure that our dealings are above-board. We are also accredited by the Department of Foreign Affairs (DFA) for us to officially assist you with your passporting concerns.  We have a DFA Liaison Officer for this, who is also accredited by the said government agency. Feel free to call us at (032) 2386625 or mobiles SUN 09228238662, GLOBE 09173166042 for any concerns. Alternatively, you may email us at gett.inc@gmail.com for inquiries of our various tour packages and travel offerings. We'd love to hear from you!