The Moalboal Island Hopping Tour is getting a lot of interest, from both locals and tourists alike. Moalboal is a southern town in Cebu, famous for white sand, lovely waters, it's sardine run and turtle sanctuary among others.
Green Earth Tours and Travel can arrange for island hopping tours to Moalboal inclusive of boat use, life vest, snorkel, mask and sanctuary fees. The island hopping tour itself takes approximately 3 hours only, excluding travel time from the Cebu City to Moalboal which takes approximately 2 to 2.5 hours, depending on traffic volume and speed of travel. Tourists have a choice of spending a night in one of Moalboal's resorts and backpacking hostels or combining the island hopping with a refreshing swim at Kawasan Falls. For the adrenalin junkies, one can go Canyoneering while in the area too. It will be a full day of fun, sun and one-in-a-million experience.
Most of the good resorts in Moalboal are in Barangay Saavedra. From the main road, one has to travel around 6.5 kilometers more to get to the beachfront area. Upon entering the area, there's a part where one has to pay a minimal barangay entrance fee of Php5. Along the way, one can make one last stop to buy essentials from a mini grocery stop before reaching Bas Dako  and shutting the hustle bustle of the city. Of course, on the way to Moalboal, one can still stop by big grocery stores to load up on food, chips and drinks. This is not to say however that there are no good restaurants serving local fare in Moalboal. Walk around the beach area, or go to the town center to get your fill of good food.
For those who are keen on diving in Moalboal, Panagsama is the best bet. Green Earth Tours and Travel can also arrange for dive tours in the area. There is also the option of free-diving in Moalboal. There are a host of resorts and dive shops in Panagsama, as well as restaurants too. Panagsama is where the famous Moalboal Sardine Run is found. This is not however the first point of the Moalboal island hopping tour. Our travel agency arranges it from Bas Dako, where boats can safely dock, and where we load your boat with lots of fresh seafood, grilled pork and what not.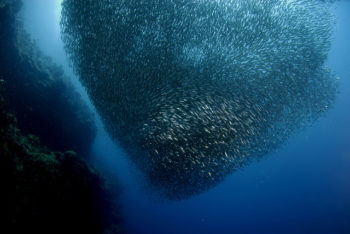 Island Hopping Tour in Moalboal normally starts at Bas Dako, and then we bring you to Pescador Island, where along the way, you have a chance to probably spot dolphins swimming in the wild. And why not? There are dolphins around the area, just as there are dolphins in the nearby Negros Region too.  Then the second spot for island hopping is the Sardine Run, where you get to witness millions of sardines in a visual spectacle which has put Moalboal into the must-go-to places when in Cebu. Last stop is Turtle Point, where one gets snorkel and swim with the large turtles. That said, seeing the turtles in Moalboal is not guaranteed, as it depends on the tide conditions (just like seeing the dolphins is not a guarantee).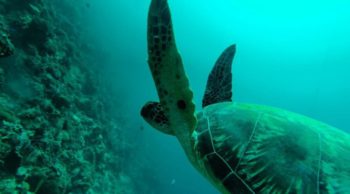 If you need assistance in arranging your trip to Moalboal, do reach us at Green Earth Tours and Travel. We will be happy to customize an itinerary for you that optimizes your time in the south. There are some itineraries that attempt to cramp everything in the south in 1 day. Our travel agency won't recommend such, because our guests will not get to experience the sites in full and everything will turn out half-baked. Again, what may be combined in a day are Moalboal Island Hopping and Kawasan Falls, and perhaps canyoneering. Oslob Whaleshark swimming tour and Aguinid Falls Tour or perhaps a day trip to Sumilon Island should be reserved for another day.
Email us at gett.inc@gmail.com for inquiries and bookings. #Moalboal #Moalboalislandhopping #Pescadorisland #Sardinerun